Our premium weighted blankets are designed to reduce stress and anxiety in adults and children.

7 Ultra-Plush Layers
Quility's innovative 7-layered blanket is designed ​with the highest-quality, durable materials, ​offering supreme comfort.
Expertly Balanced
The ultra-breathable, 100%-cotton outer layer is lined with non-glue polyester padding and two extra polyester layers that contain millions of premium microglass beads.
Advanced Sewing Technology
Quilted sections are scientifically engineered with ​ultra-strong stitching for even weight distribution.
Reduces stress and anxiety
Quility Weighted Blankets provide comfort and warmth along with a sensation of an embrace, promoting a calming effect.
Improves sleep quality
The familiar cozy weight from the blanket will lull your body to sleep. Sleep comfortably throughout the night and wake up feeling renewed!
Minky duvet cover included
Each blanket comes with a removable, machine-washable duvet cover that can be used for added warmth and comfort.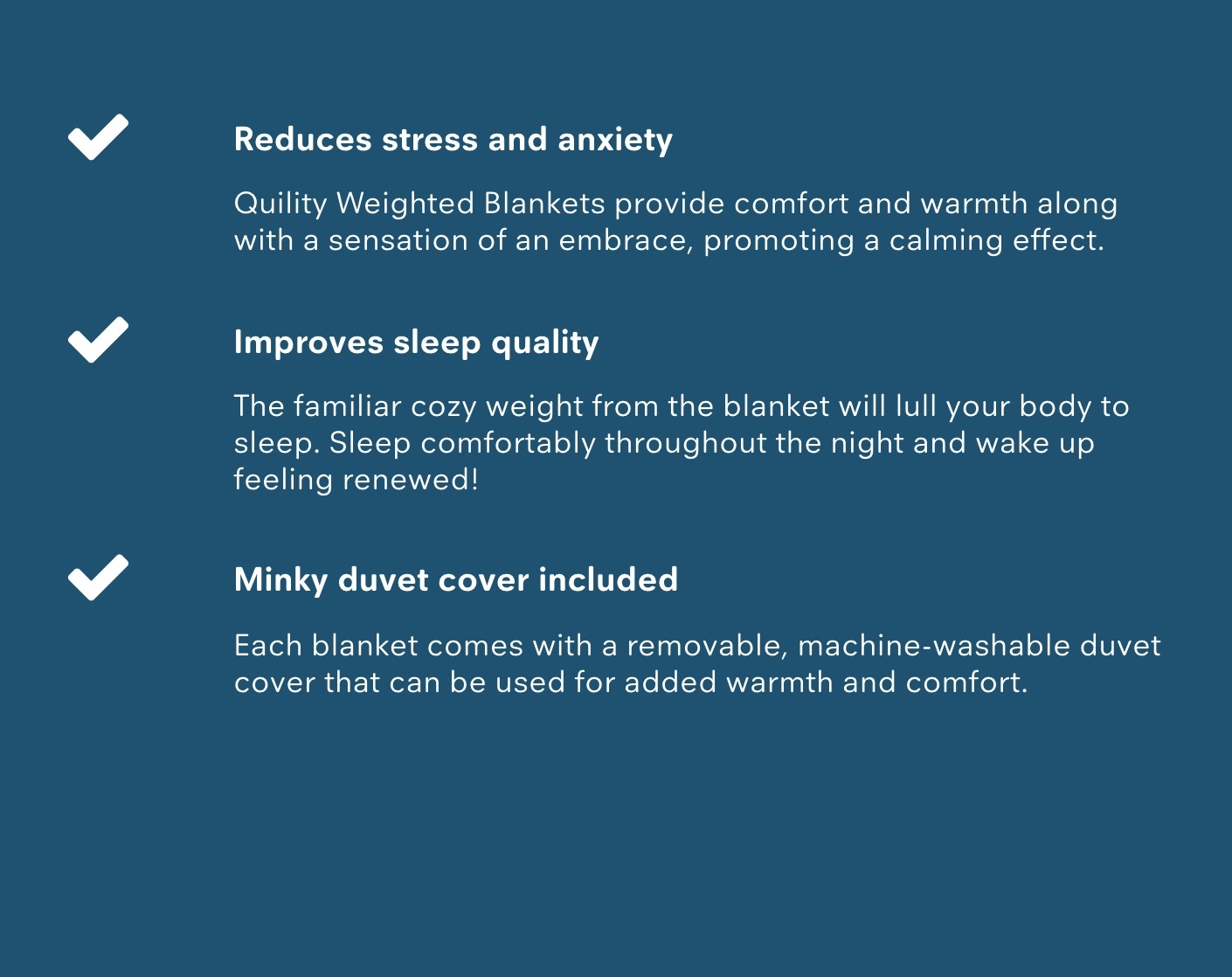 Millions of people around the US suffer from symptoms of stress, anxiety, PTSD, and insomnia. The Quility Weighted Blanket is an all-natural solution that may help individuals reduce these symptoms. Hundreds of our customers report improved sleep, lower stress, and heightened feelings of relaxation, wakefulness, serenity, and peace of mind.
Weighted blankets are a form of at-home therapy and provide similar benefits to deep pressure therapy. They also have proven benefits for anxiety and insomnia, and are equally beneficial for children with ADHD.
Wrap yourself in the blanket whenever you're feeling stressed out, anxious, or can't sleep – or when you just feel like getting comfy! Take a nap, cuddle up, watch TV, or read a good book. The Quility Weighted Blanket isn't just ideal for a good night's sleep - it'll bring you and your loved ones calm, comfort, and coziness at any time, day or night!